Imagine performing the very first lips to lips kissing scene in a highly conservative Philippine cinema at age 12, working as a vaudeville dancer and dating one of the most powerful men, General Douglas MacArthur, then commander of all U.S troops in the Philippines at 16?And later on trying your destiny as one of the first Asian actors to enter Hollywood, in an age where racism was still prevalent.
Many would say that Elizabeth Cooper aka Dimples Cooper was ahead of her time.
Award winning author, actress-singer Lourdes Duque Baron would dub her as "Queen of Feminism".
"A small pinay and all and yet she stood up to a 5 star general, and decided she will not be pushed around anymore!"

Lou Baron ( Author, Singer and Producer)
Dimples Cooper Life & Works
Isabel Rosario Cooper, better known for her stage name " Dimples Cooper" is one of the most fascinating femmes fatale to ever exist in Philippine history. She was the Helen of Troy for General Douglas MacArthur, the woman who will derail his presidential ambitions. Their passionate love affair rocked the media and the rest of the world!
At a young age, Dimples entered show business and became a vod-a-vil star. She lit up the stage of the old Rivoli Theater at Plaza Santa Cruz every night, together with star studded guests. Dimples Cooper would perform hula dance numbers, comedy skits, songs together with jazz music, in between the screenings of silent films.
But vod-a-vil and silent films soon lost their spark and some of the most beautiful vod-a-vil stars continued their journey in the silver screen.
In 1925, she starred in her first movie " Miracles of Love" by a Hollywood-trained director Vicente Salumbides. " Miracles of Love" is considered as one of the early films in the Philippines that made use of the close-up technique, cutback, and parallel editing. The movie was a box office success and endorsed by Bishop Gregorio Aglipay.
Dimples, however would gain cinematic immorality after she starred in the movie by Jose Nepomuceno's " Tatlong Hambog" (1926), a silent romantic comedy, which featured the first lips to lips kissing scene in the Philippine cinema. It is said that it took Nepomuceno three months to plan the execution of the kissing scene amidst the ruins of the Old Guadalupe Church and Monastery in San Pedro Macati.
In the past, film makers would simply dim the lights when actors are about to kiss each other. The first kissing scene was immensely talked about, that they even devoted an entire article in the Excelsior in 1930, " La Historia del Primer Beso de Cine en Filipinas" just to talk about it.
For some reason she stopped acting in Filipino films in 1930, and tried to become a showgirl in Shanghai.
Meeting " The General"
At age 17, she would meet General Douglas MacArthur, then commander of all the U.S troops in the Philippines at the Olympic Boxing Stadium, after she has just returned to Manila from abroad.
A writer named Petillo described Dimples Cooper as short, and delicate and yet very beautiful. The five star general was then 50 years old, while Cooper was 17. After the first meeting, she started seeing the General often. A chauffeured car would often appear at her home on Herron now Pedro Gil Street in Paco district of Manila. The General was often seen entering her home and spending an hour or so with Dimples.
She would often compare the General to crushed mangoes, Spanish brandy, and crushed ice. Their relationship was the gossip of Manila, but the General didn't seem to mind.
Five months before leaving Manila for his new post, the General was already divorced from his wife the socialite Henriette Louise Cromwell Brooks.
But despite that fact, Dimples Cooper was still tagged as his mistress or concubine.
According to the writer Petillo " Isabel, small, soft-spoken, and of another race, offered no threat to his masculinity. More importantly, her somewhat checkered past categorized her in his mind in an entirely different light from his mother and his former wife".
Many believe that through her, he was able to achieve sexual gratification. Her presence was very special to him- so important that he risked a great deal just to make sure that he would remain connected to him back in the United States.
She came to the U.S and Douglas MacArthur furnished her with a lavish apartment at 17th Street, then later on a suite at the Hotel Chastleton near his office. He also bought her expensive nightgowns and lingerie. To avoid getting bored she was also given her own chauffeured limousine and a hefty amount of money.
Gen. MacArthur's was always traveling abroad, to fill the void he bought Dimples a companion poodle. While on extended official visits to Vienna and Paris, he sent her postcards and love letters, which she kept and treasured.
Dorothy Detzer, a Washington lobbyist who met Cooper, recalled in the book, "American Caesar": "I thought I had never seen anything as exquisite. She was wearing a lovely, obviously expensive chiffon tea gown, and she looked as if she were carved from the most delicate opaline. She had her hair in braids down her back.
Out of boredom, Cooper decided to leave the hotel and frequent the nightclubs of Washington and Baltimore where she reportedly seduced other wealthy and prominent men. One time, she partied in Havana, spending an entire cash gift from the general.
Dimples Cooper was then enrolled in an art school, but soon transferred to law school. In here she would meet a new admirer who would fall for her and promise her financial security. General Douglas Macarthur found out about this, and after that Dimples and Douglas MacArthur had a big fight. Dimples also wanted the General to find work for her brother Allen Cooper, but the General refused.
On September 1, 1934, he ended their relationship by giving her a train ticket to the West Coast and ocean liner passage to Manila. This ticket was never used because Dimples opted to stay. She instead moved into a rooming house a few blocks away and found a job.
In 1932, General Douglas MacArthur's solid reputation and leadership began to get soiled after the infamous Bonus March incident wherein he ordered the dispersal of some 20,000 veterans of WWI who are asking for their deferred bonus. Instead of treating them with kindness and hearing out their concerns, he instead mobilized 800 troops to evict veterans from public buildings. He disregarded President Hoover's orders and pursued them with bayonets and tear gas across the Anacostia River. He didn't mind that men and women were both fleeing in terror. His men even burned their tents and shacks. Because of this the press would label him as dictatorial, harsh and brutal.
Because of the negative way the media depicted him, MacArthur sued Drew Pearson, Robert S. Allen and United Features Syndicate who owned the Washington Merry-Go-Round column for libel.
He asked for 1.75Million U.S dollars in damages. But they were able to build their defense, together with Mississippi Congressman Ross Collins who lived in a suite on the same floor of the apartment building of Dimples Cooper. Pearson discovered that Dimples kept all of the love letters that MacArthur gave her. It contained syrupy and impassioned love letters. Pearson offered to "rent" six love letters that Macarthur sent to her for him to peruse. She agreed, and Pearson not only paid her, but also sheltered her in a Baltimore hideaway for her safety.
The lawyer of Pearson, Morris Ernst informed MacArthur's counsel at the pre-trial that they were going to use Miss Isabel Rosario Cooper ( Dimples Cooper)as witness for defense. This led the General MacArthur to withdraw the case.
To stop further issues, General Douglas MacArthur paid Dimples Cooper 15,000 USD to have the letters returned to him. He could have easily defeated his opponents in court but the General did not want this case to be a public matter. He feared that his mother will find out about his relationship with Cooper, and that this issue will derail his presidential plans.
After this, MacArthur left for Manila to accept the post offer from President Manuel Quezon to serve as his military adviser. Six weeks later, his mother Mary Pinkney Hardy MacArthur died. He would meet Jean Marie Faircloth, a 36-year old lady from Murfreesboro, Tennessee whom he married on April 30, 1937 while in New York. She gave birth to a son Arthur in Manila.
New Found Life: Dimples Cooper
With 15,000 USD in her hands, and General Douglas MacArthur out of her life. Dimples was free to get married to lawyer, Frank E. Kennemore, Jr. the same law student she was involved with in the past. In 1935, she was also able to open a beauty salon, and got divorced in 1942. Historical documents attest that Cooper married twice. First to Frank E. Kennemore, Jr. and then a Fil-American bartender, Milton Moreno. Both ended in divorce, and she did not have any children with them.
Welcome To Hollywood
During her marriage to Moreno, Dimples headed for Hollywood. To help her get roles in the film industry, she commissioned the Jose Reyes Studio in L.A to shoot portraits of her wearing different costumes. She has photos of a demure Filipina girl in a butterfly-sleeves Filipiniana outfit. She also had herself fitted with a sultry Chinese dragon lady wearing a Cheongsam, and one as a flirty island girl in sarong and lei.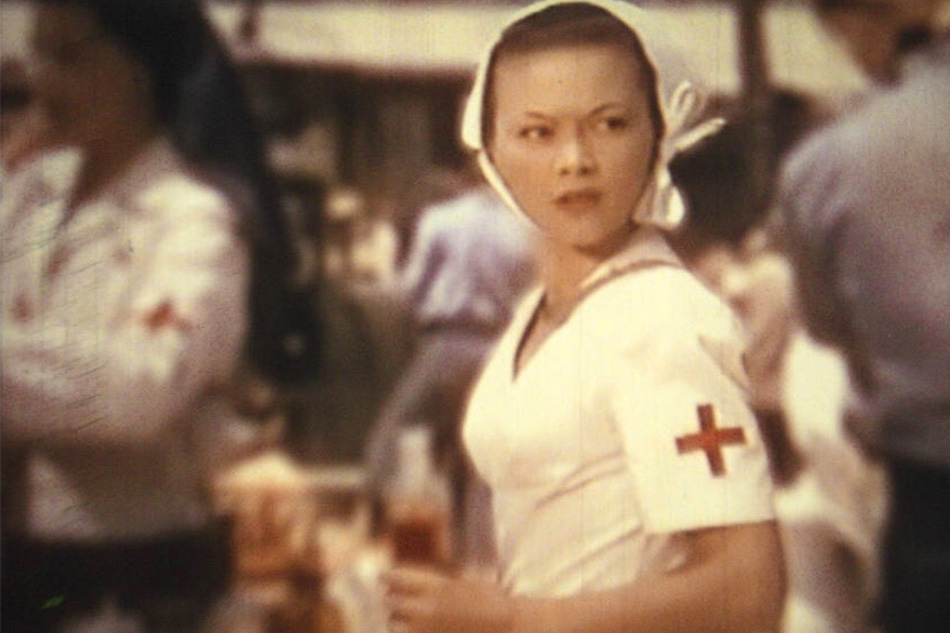 Cooper was a bit player in a number of Hollywood films such as Mark Sandrich's "So Proudly We Hail" (1943), Lewis Milestone's "Purple Heart" (1944), Cecil B. De Mille's "The Story of Dr. Wassell" (1944), John Cromwell's "Anna and the King of Siam" (1946), Elia Kazan's "Boomerang" (1947), Cecil B. De Mille's "Unconquered" (1947), John Brahm's "Singapore" (1947) and William Beaudine's "The Chinese Ring" (1947).
She also had another screen name, " Chabing", under which she was credited as a bit player in films such as Charlie Chan's "Shanghai Chest" (1948), Peter Godfrey's "The Great Jewel Robber" (1950), Lawrence Raimond's "The Art of the Burlesque" (1950), Jacques Tourneur's "Anne of the Indies" (1951) and Leslie Selanderf's "I Was an American Spy" (1951).
However, due to racism during that time, Dimples Cooper was not able to star in any lead roles. She was confined to small roles as assigned to actors of Asian descent during that time.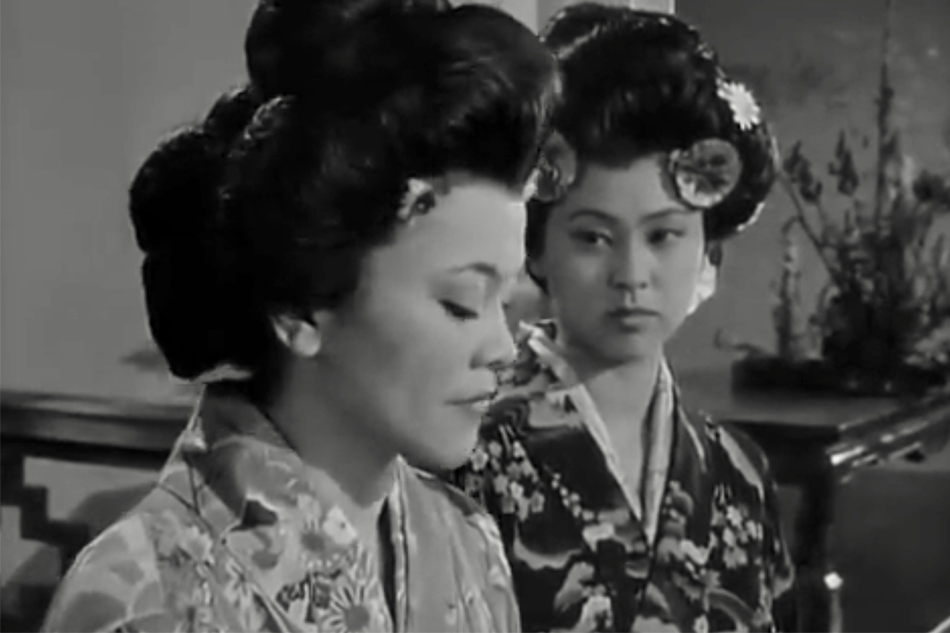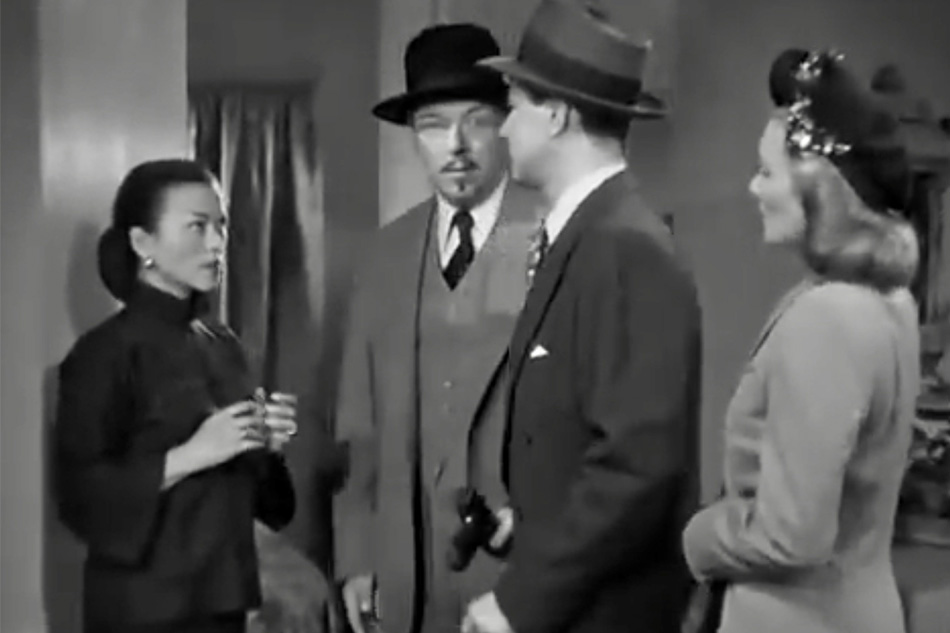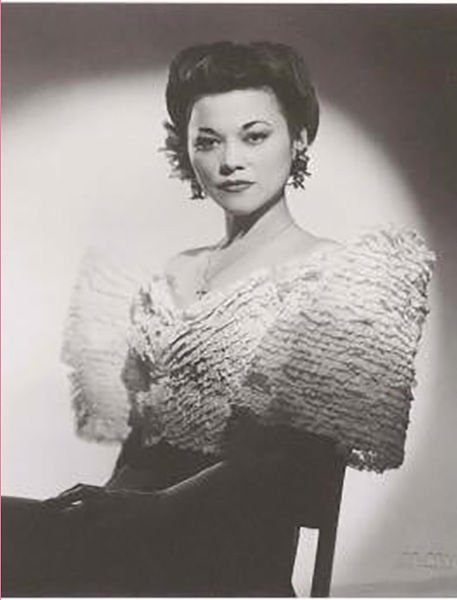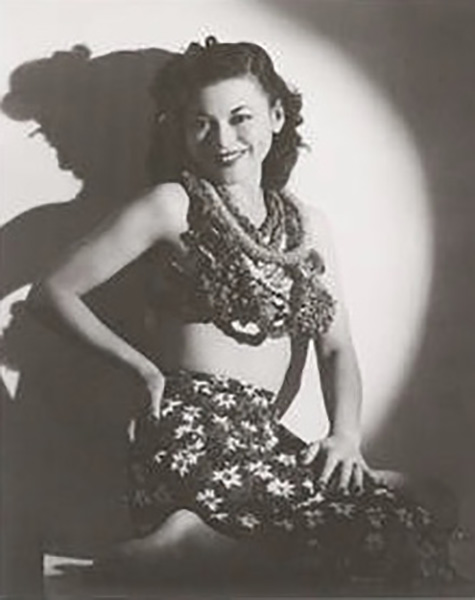 There was very little chance that an Asian actor liker her would have made it big in Early Hollywood due to Hay's Code and California's anti-miscegenation laws that was effect until 1948 which prevented asians from getting roles that will show them romantically linked with a white lead. Stereotyping was also prevalent, as most Asian actresses were casted as China Dolls or Dragon ladies.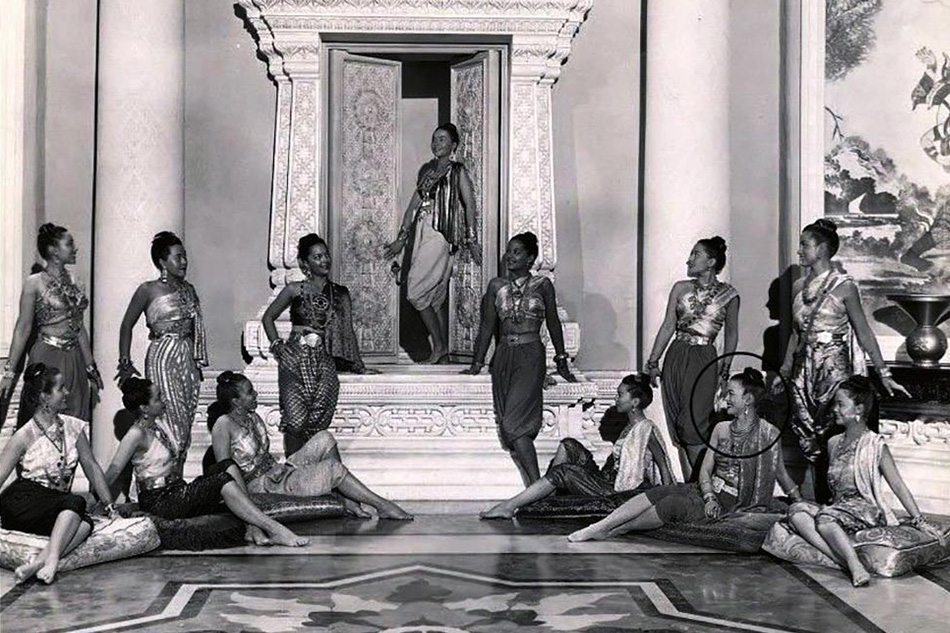 Despite all of the hindrances, Dimples Cooper at 29 was still a huge success. Her filmography was remarkable, and she became a part of huge productions like the 20th Century Fox, Paramount Pictures, Universal Studios and Warner Bros. She was also able to work with some of the biggest actors and directors in Hollywood during her lifetime.
Mesmerizing life & tragic end
There are no records stating that Dimples returned to Manila. The last time she was on the news again was on June 29, 1960, she died at age 46 at her home at 6244 Delongpre Avenue, Los Angeles, due to " acute barbiturate intoxication", as a result of " ingestion of overdose of barbiturates".
Her death was declared as suicide. Her death was reported by ex-husband, Frank E. Kennamer. She was laid to rest at Holy Cross Cemetery, a Roman Catholic cemetery in Culver City, California on July 5, 1960.
.I'll Live Again: A Girl Named Dimples Cooper
Author and actress-singer Lourdes Duque Baron has set her heart in creating the first movie in Asia to use Digital De-Aging Technology. The colorful and powerful life of Dimples Cooper will rise again in the upcoming film " I'll Live Again: A Girl Named Dimples Cooper".
Lourdes Duque Baron, now at age 73 will be the first Asian woman who will use digital de-aging technology in film to feature a story that is based on Dimples Cooper's life.
De-Aging tech will create CGI images of Lourdes Duque Baron in increments of 10 ages. When she was in her 20's, 30's and 40's. At 73, the de-aging technology and power of stem cells will give Lou Baron the chance to play Dimples Cooper in different stages of her life.
Digital de-ageing opens up the possibilities to have stories with multiple timeframes like that of Dimples Cooper's life. It will let actors play roles that perhaps they might not be able to in the same story. It will be a total digital rebuild of the face and the head but it will be Lou Baron who will be the one acting in the entire film, there will be no need for body doubles.
The film will focus on the redemption that Dimples Cooper had, the love she experienced while she was still living despite all her struggles.
I'll Live Again: A Girl Named Dimples Cooper is about a forbidden and very deep love, a story about forgiveness… and for their souls to find eternal peace.
Most of the location shoots will happen in Pasadena, California, Big Bear California and Bakersfield, California. It will be co-directed by Lourdes Duque Baron & Felino Tañada.
Jaclyn Jose is currently being considered for the role of (Chica) the Best friend of Dimples Cooper and Dr. Tim Neavin for Douglas MacArthur.
References:
https://news.abs-cbn.com/ancx/culture/spotlight/08/11/19/the-colorful-life-and-tragic-end-of-the-pinay-showgirl-who-stole-macarthurs-heart
https://www.esquiremag.ph/long-reads/features/douglas-macarthur-dimples-cooper-a2289-20190718-lfrm2
https://onenews.ph/a-glimpse-into-the-life-of-douglas-macarthur-s-filipina-mistress