7. Richart's Intense Valentine Gourmet Chocolates
Richart is considered one of the best chocolates in history, it is tagged as the most refined chocolate company in the world. It is famous for its Intensive Valentine Gourmet selection and is very delectable.  The centerpiece usually comes with a heart and is surrounded by stunningly cute 40 small delicious Petit Richart chocolates.  The boxes can be customized according to client needs.  The prices of the box could reach up to $750 or 40,000 php a box when purchased online for the Philippines.
Richart Design et Chocolat started as a family business that was founded in Lyon, France back in 1925 by master chocolatier Joseph Richart. The company evolved and entered the second generation of chocolate makers in 1987 under Michel Richard after he began to redesign the chocolates to fit the modern era. Instead of classical chocolate designs, Michel Richart added a dazzling array of patterns and colors for each of the bonbons, this was called the cocoa butter transfer, to capture the flavors inside.
Only the finest ingredients can be found inside a Richart chocolate, they add in black currant, pistachios, hazelnuts, spices, and apricots that come from different parts of the globe. Richart also uses as little sugar as possible in the 80 plus different filled chocolates that they are offering, including the solid napolitains for full flavor experience. The fillings come with fruit puree, ganache, creams, caramels and praline. The chocolate brand introduces 20 new flavors every year for clients to experience.
6. Jacques Torres Chocolate
Jacques Torres Chocolate was started by Mr. Chocolate- Jacques Torres- he came from South of France in a small town on the Mediterranean Sea in the Southern Region Provence called Bandol. He created the line Jacques Torres Chocolate along with his 15 years of experience as one of the best pastry chefs in Bandol. He had a deep affinity with chocolates and proceeded to create the first chocolate store and factory " Jacques Torres Chocolate" in the DUMBO neighborhood in Brooklyn, New York.  He is among one of the very first to create cocoa beans and make his own kind of chocolate. The chocolates became an instant hit and in just a few years, they were able to open a flagship store in SOHO neighborhood on New York, Hudson Street. Jacques Torres chocolates are handcrafted chocolates that use premium ingredients, they are free from any preservatives or artificial flavors. His line of Gourmet chocolates is one of the most expensive and sought after line in the world.
A small box of Jacques Torres Chocolate can cost around $100 or 5, 200 PHP, he is also known for auctioning one of the most expensive Chocolate Faberge Eggs made by a chocolate confectioner.
 5. La Maison du Chocolat
La Maison du Chocolate is also French chocolate and was founded in the year 1977 by chef Robert Linxe. The brand is now available globally. The chocolate brand charges $65 per pound, and each of the chocolate comes with intricate packaging. They also sell truffles, pralines, and eclairs including Macaron pastries that are famous all over the world.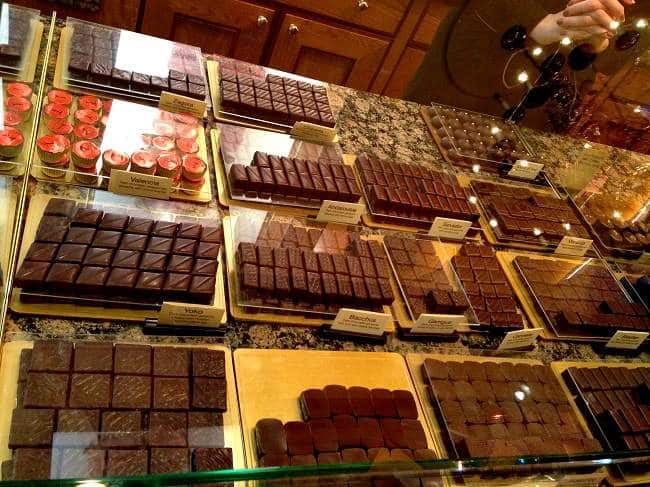 4.  Amedei Porcelana
A panel of food critics recently rated Amedei as the best chocolate bar in the world. The Porcelana bar is right up and worth tasting. This chocolate bar is creamy and delightful. It is so good you are guaranteed to order another.
White, delicate and fine bean that earned it the name Porcelana. It's a pure-bred "Criollo" cocoa, of which only 3,000 kilos are made every year. Amedei has the honor of growing it, making it into an incredible flavor, among the most aromatic, well rounded and harmonious found in the book of chocolate. The brand hails from Tuscany, Italy and is often called the world's most expensive chocolate.  A 1.8 oz bar sells for 12.95 dollars in the United States, it can even go as high as $18.99.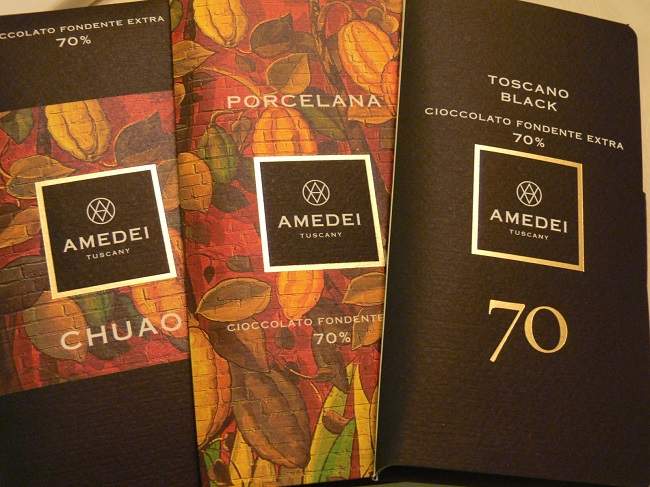 Created by the Tuscany-based chocolatier Amedei, Amedei Porcelana is delicious dark chocolate that's often quoted as one of the most expensive chocolates in the world. The product has won numerous awards over the years, including those passed out by the Academy of Chocolate: Best bean to bar, Best Dark Chocolate Bar and the Golden Bean award.
3. Godiva Chocolates.
Godiva chocolates are one of the most recognizable chocolate brands in the world. It has existed for over 93 years and is one of the first Belgian chocolate brand made available in the world.  It was later on purchased by a US company Campbell Soup. Godiva Chocolates is being sold for $120 per pound, and it is known for its incredible flavors- the chocolate can also last for a long time and can retain its quality for up to 3 weeks, making it one of the most resilient chocolate there is, it can stay intact for up to 3 weeks even at room temperature.
2. Noka Vintages Collection.
1. To' ak Chocolate
To' ak Chocolate is a luxury brand from Ecuador,  the company prides itself as one of the pioneers of chocolate science. They are the first tree-to-bar chocolate maker to comprehensively explore aging dark chocolate- using the techniques by winemakers and whiskey distilleries- each of the chocolates sold is a result of research and experimentation.
Once the precious beans are harvested, they go through a small-batch drying and fermenting process before being handpicked based off their size and ripeness. It is retailing at $375 for a 50-gram bar and remains one of the most exquisite chocolate brands in the world.